Overview:
Selecting a boarding kennel to care for your pet is a matter of trust. Our staff has the experience and knowledge to give your pet exceptional care while you're away, and the spacious facilities allow us to provide the comforts of home. At McDonald's Kennels, we love taking care of dogs.
Our kennel buildings are organized into three separate areas based upon the size of the dogs. We are committed, as space allows, to keeping dogs of similar size near each other to reduce intimidation or fear.
Your dog's day begins at 7:00 AM when we open the gates to give each dog access to the attached individual outdoor run. The breakfast meals are served, often followed by an all-kennel bark-along to accompany the national anthem from the naval base nearby. After a morning rest, your dog comes back inside briefly so we can sanitize each of the outdoor runs and clean and refill the water buckets. As soon as this daily cleaning is finished, the dogs are given access to their outdoor runs again until bedtime. McDonald's Kennels is a large facility and staff are constantly coming in and out of the kennels checking on and interacting with the dogs. The dinner meals are served in the late afternoon. Between 8:00 PM and 9:00 PM all dogs are brought into the indoor portion of their kennels, their gates are closed, and the dogs settle down for the night.
Rates:
You may drop off your dog any time after 8:30 AM Monday through Saturday, when we open. For the safety of your dog, your dog MUST be on a leash when you arrive at the kennel. You may pick up your dog any time on checkout day as we do not have a designated time for checking out. We only ask you to be aware that we close at 5:30 PM Monday through Friday, 1:00 PM Saturday, and another day's boarding will apply if you have not picked up by the time we close. If you want a bath for your dog on checkout day, we will discuss with you a time you can pick up your clean dog, to allow time for bathing and drying. We know how important ease and flexibility can be for you on that last day.
Our boarding rates for an overnight stay are based on the weight of the dog:
| Weight | Service | Description | Rate |
| --- | --- | --- | --- |
| 1-35 lbs | Small Boarding | From drop off to next day's closing time | $21 |
| 36-85 lbs | Medium Boarding | From drop off to next day's closing time | $25 |
| 86+ lbs | Large Boarding | From drop off to next day's closing time | $29 |
We are pleased to offer the following discounts:
10% Military Discount on all our services to active-duty personnel and retired veterans. Please be prepared to provide a picture identification.
15% Extended Stay Discount to boarding customers needing a stay of 21 days or more.
Vaccinations:
To assist in our efforts to keep your dog healthy during their stay with us, we require dogs who are boarding to be vaccinated against the following canine diseases:
Rabies
Bordetella (kennel cough)
Distemper/Parvo (DAPP or DHPP)
You may bring in vaccination records when you drop off your dog, or you may have your veterinarian fax the records to our reception desk at 360-697-2264 or email the records to Office@McDonaldsKennels.com.
Accommodations and Amenities:
We try hard to make boarding your dog easy. We provide beds, blankets, bowls, and, if needed, food. However, if you would like your dog to have a bed, blanket, or toys from home, you are welcome to bring them. We are seeing more dogs being helped with slow-feed or puzzle-type food bowls, and you are welcome to bring those as well.
Kennels:
The kennel in which your dog stays is exclusive to your dog. It has an indoor portion for eating, resting, and sleeping at night, as well as an attached completely covered outdoor portion for running and for getting a drink of water.
Our kennel dimensions provide flexibility for our boarding needs:
Kennel Size
Indoor Run
Outdoor Run
Width
Length
Height
Width
Length
Height
Small
3′ 4″
3′
4′
3′ 4″
10′
6′ 6″
Medium Building A
4′
4′
4′
4′
14′
6′ 6″
Medium Building B
3′
4′
6′ 6″
3′
14′
6′ 6″
Large
4′
4′
6′ 6″
4′
14′
6′ 6″
We do allow multiple dogs from the same family in the same kennel. We can separate dogs for feeding if necessary.
Bedding:
We can provide bedding for your dog. Our bedding is bleached and washed after each use. You may bring a bed from home if it will fit comfortably in your dog's kennel. When your dog arrives at a boarding kennel, your dog is entering new territory and is surrounded by unfamiliar dogs. This can be stressful. Your dog may then urinate on the perimeter of their new territory to claim it as their own and similarly may mark their bedding or toys. Please be aware this is not unusual, even if it is not something your dog would ever do at home. When this happens, we can easily wash and dry your items as long as we can get them in our washing machine. If a dirty item cannot be washed, we will remove the item from the kennel and return it to you.
Food: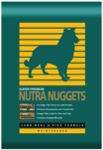 We recommend that you keep your dog's diet consistent by bringing their food from home, and we will feed according to your instructions. The advantage of keeping your dog's diet consistent is it removes one more stressor from your dog's stay. Changing your dog to a new food often causes digestive adjustment, and this will usually manifest as a brief period of diarrhea. We often see that, after a few days of adjusting, dogs become accustomed to the new food. When your dog returns home and is switched back to their own food, however, they have to go through this digestive adjustment again. A consistent diet may be easier for both your dog and you.
We understand a dog's stay sometimes involves travel from another place, or a sudden emergency at home. If you are unable to bring food, we will gladly provide it. Our house dog food is Nutra Nuggets Lamb & Rice, a medium kibble dry food. It is gentle on the stomach and most dogs adjust to it quickly.
Treats and Toys:
We will be happy to give your dog treats brought from home on any schedule you specify. The only treats we do NOT allow are rawhide treats or chews as they can be a choking hazard. Toys are welcome.
Medications:
We have extensive experience giving medications and are able to administer those as provided and directed by you. We charge $3.00 per administration for three or fewer different medications. If there are four or more different medications, or if an injection is involved, we charge $6.00. We have administered capsules, tablets, crushed pills, liquids, and ointments used on the skin. We have also administered eye drops and ointments, ear washes and medications, and have given injections such as those for insulin and subcutaneous fluids. For ANY medications other than those given in the food, we MUST be able to safely touch and handle your dog. PLEASE call us before your dog's stay to let us know anything of which we should be aware. An overnight stay with us before you are actually out of town could let your dog get familiar with us, and this can be very helpful.
Special Needs:
We have many ways to accommodate dogs who may have special needs. Young puppies have stayed with us, as have dogs with mobility issues, vision loss, or hearing loss. Older dogs can be supported with a piece of carpet inside for better grip, and extra cushioning and bedding. We can isolate females in heat away from other dogs. Dogs who may be fear-aggressive toward other dogs can be put in an end kennel, or in a quieter part of our buildings. With aggressive behavior toward humans, we can take precautions to keep your dog calm and our staff safe. We do not ban any breed from boarding with us and have extensive experience handling all types of dogs.
A la Carte Services:
You may add any of our a la carte services in addition to your dog's boarding stay. A few popular services are:
Walk or Playtime, 10 to 20 minutes – $7.00
Wash & Dry or Detailed Bath – $25.00 to $38.00